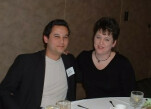 We invite you to join any of our Adult Bible Fellowships for a time of studying the Bible, prayer, and getting to know one another. A variety of classes are offered to meet the needs of adults ranging from college-age to seniors. Remember, you may join any of our ABFs at any time.
What is an ABF?
A group of 5 to 60 people who identify and relate to each other as a community within Grace Church
A mix of ages, but normally organized by peer groups or similar "life" situations
Meets on a regular basis (Sunday mornings)
Led by a lay team that shares responsibilities for teaching, fellowship, care, assimilation, service and outreach
What does an ABF do?
Studies the Scriptures with gifted teachers
Shares burdens and prayer requests;
Provides activities, socials, and service projects which enhance group unity;
Shares caring opportunities (i.e. meals, hospital visitation, house cleaning) to members by way of fellow members' abilities and spiritual gifts;
Offers a casual fellowship time with refreshments so that people can catch up with what's happening in each other's lives;
Actively pursues new people to assimilate into the class and church.
When and Where do the ABFs meet at Grace?
| | | |
| --- | --- | --- |
| 9:00am | | 10:45am |
| Body Builders class meets in the fireside room. The ages range from 40's to 70's and is for singles and marrieds. | | Berean Class meets in Room C120 and the class consists of married and single adults in their 60's and above. |
| Raising Families class meets in the downstairs of the church in room M53. This group is for young adults with or without children and also for parents of teens. | | Rock Climbers ABF meets in room C124 of the Children's Wing. Anybody and any age is invited. |
| Underground Cafe College class meet in the downstairs of the church room M51. This class is for those in college or college age and working. | | |