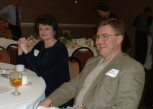 At Grace Church, we want you to feel that you belong, that this is your home, and that we are your spiritual family. Each of us wants to know God, participate in supportive and encouraging relationships, feel free to be ourselves, grow in our Christian experience, and make a difference in the world.
One of the best ways to experience this is to join a small group.
Who Makes Up a Small Group?
- A small group of 3-12 people
- Led by a team for guidance and direction

How are Small Groups formed?
- Common interests,
- Common life experiences,
- Geographic proximity, or
- Existing friendships

Where Do They Meet?
- In a host home
- Some rotate, others don't

When Do They Meet?
- Determined by the group
- Each group arranges their own childcare

Why Do They Meet?
- For growth of relationships with others and God
- Friendship evangelism
- Discipleship
- Bible teaching
- Fellowship
- Serve others

Small Groups...

A place to grow...

A place to belong...

Why Do I Need a Small Group?

Relationship

One of the greatest needs in our society today and in the church, is the need for community and deeper relationships. This does not happen without intentional effort. In a Small Group you will meet people just like yourself - individuals who join with the desire to grow and share their lives. It is a place to belong, be known and be loved at a depth that is impossible to experience through only a worship service.

Spiritual Growth

Significant spiritual growth occurs best in a small group setting. Why? Because you have opportunity to dialogue, ask questions and learn how to practically apply Biblical truths to your life. This type of learning environment facilitates your growth towards maturity in Biblical knowledge and application of your own spiritual giftedness.

Nurture

Because of the quality of relationships developed in a Small Group, personal nurture and genuine care are best provided there. It becomes a place to not only receive support but to offer ministry and encouragement to others.

Practical Experience
A small group experience provides you with a wonderful opportunity for leadership development. This is a safe environment in which to practice people and ministry skills.
Leadership
Grace is committed to providing high caliber pre-service and in-service training to its small group leaders. The pre-service Basic Training combined with the in-service bimonthly leadership training, leadership retreats and other training seminars are designed to prepare our leaders for quality service. The church also provides a subscription to a small group journal for each leader.
If you aspire to the ministry of shepherding a small group, let's talk!
For more information, contact Pastor Bryan Brotherton:
E-mail: Phone: 309-452-5076
Have more questions about Small Groups? If so, Contact Us.